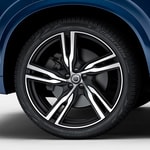 There are times when you just want a bit of luxury in your life. Since you spend so much driving around Tinley Park, the Volvo XC90 is a perfect way to fulfill this desire. This is a popular luxury SUV that gives you everything you need and more. These performance features will highlight that fact.
You will want to visit Volvo Cars Orland Park and learn more about the four-corner air suspension feature on the XC90. This innovative technology is constantly monitoring the conditions of the vehicle and the road in order to determine how best to engage the suspension. The result is a more comfortable and pristine ride.
The drive mode settings are also something to take note of. You will get to select between Off Road, Eco, Dynamic, or Comfort modes. Each one serves to allow the vehicle to handle in a different way depending on how you like to drive. Test drive the Volvo XC90 today at Volvo Cars Orland Park.