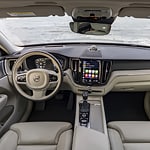 When you're shopping for a vehicle, it's important to look at the entire package. The exterior is probably what caught your eye first, but looking closely at the interior of the vehicle is something you should spend some time on. The interior of the Volvo XC60 combines beauty with convenience.
While the XC60 is a compact SUV, the interior feels anything but compact. There is an exceptional amount of space for both people in the front row as well as all of the passengers. Head space and leg space is a lot better than some of the other competition.
The interior package that comes standard with the XC60 includes dual-zone automatic climate controls, a moonroof, a SENSUS infotainment system with a 9-inch touch screen and you get connectivity to Apple CarPlay as well as Android Auto. Your 10 speaker audio sound system is crystal clear.