To Our Valued Customers,
We at International Autos, your Audi, Jaguar, Land Rover, Subaru, and Volvo dealership, wanted to take just a moment of your time to thank you for your continued support and to let you know about a new and exciting program at our store.
Below you will find information explaining our new Premiere Club program. With the purchase of your vehicle from International Autos, you are automatically enrolled in the International Autos Premier Club. We are pleased to offer you the many benefits associated with being a Premier Club member. Program benefits include complimentary alternate transportation, discounted boutique purchases and many other are meant to make your experience at International Autos the best in the industry. In addition to the items listed in your brochure, our service department has amenities such as complimentary drinks, snacks, and Wi-Fi, as well as a local shuttle service for easy drop off and pick- ups.
We understand that our relationship with you does not end after your purchase, it's just the beginning! Our experienced salespeople, certified service advisors, technicians and knowledgeable parts associates know what's right for you and your vehicle. As always, the employees are here to make your experience exceptional in every way. Most importantly, we want you to know we are here for you and thank you for the opportunity to completely satisfy you every step of the way.
Sincerely,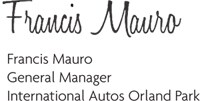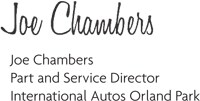 PREMIER  CLUB
Concierge Style Assistance: Our Service Coordinator will work with you to maximize your investment by scheduling appointments, setting up loaner vehicles and answering any other questions you may have.
Complimentary Loaner Vehicle: When your vehicle requires service for two or more hours, you can have the use of alternate transportation for the duration of your experience.
Priority Service: You will be prioritized to expedite your service experience.
Complimentary Vehicle Washes: Your vehicle will be washed after every scheduled service.
Boutique and Accessory Privileges: You will be entitled to an automatic 10% discount on any accessory or boutique item any time you choose.
Communication After Your Purchase: You will receive an email monthly containing specials and coupons valid in the service department. Also, you will receive a quarterly newsletter containing updates on new products, accessories, recalls and important information about your vehicle. Additionally, you will be notified of annual service clinics which include complete complimentary inspections of your vehicle.